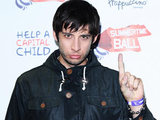 Example has retained the number one spot on the UK singles chart with 'Changed The Way You Kissed Me'.
The 'Kickstarts' rapper emerged victorious from a close sales battle with Calvin Harris and 'Bounce', which temporarily snatched pole position on Wednesday's midweek update.
Despite missing out on number one, Harris celebrates in 'Bounce' his eighth top Top 40 hit. He previously reached the peak of the rankings with 'I'm Not Alone' in 2009 and 'Dance Wiv Me' in 2008.
Debuting at three this week is Ed Sheeran and 'The A Team', while 'Spaceship', Tinchy Stryder's team-up with Dappy, touches down at five. The N-Dubz star previously confessed on Twitter to being disappointed with the track's chart performance.
Glancing past the top five, Nicole Scherzinger, Alexandra Stan and Aloe Blacc occupy spots six to eight after falling three apiece with respective tracks 'Right There', 'Mr Saxobeat' and 'I Need A Dollar'.
The Top 10 in full:
1. (1) Example: 'Changed The Way You Kissed Me'
2. (-) Calvin Harris ft. Kelis: 'Bounce'
3. (-) Ed Sheeran: 'The A-Team'
4. (2) Pitbull ft. Ne-Yo, Afrojack and Nayer: 'Give Me Everything'
5. (-) Tinchy Stryder & Dappy: 'Spaceship'
6. (3) Nicole Scherzinger ft. 50 Cent: 'Right There'
7. (4) Alexandra Stan: 'Mr Saxobeat'
8. (5) Aloe Blacc: 'I Need A Dollar'
9. (7) LMFAO ft. Lauren Bennett & Goonrock: 'Party Rock Anthem'
10. (9) Jennifer Lopez ft. Lil Wayne: 'I'm Into You'
Source: Official Charts Company