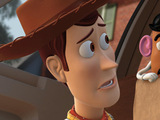 Toy Story 3 has debuted at the top of the US box office over the weekend.
The animated sequel claimed more than $109 million during its first week in release.
The Karate Kid, starring Jaden Smith, slipped to number two with $29 million, followed by The A-Team in third and Get Him To The Greek in fourth place.
Action film Jonah Hex, starring Josh Brolin and Megan Fox, earned a mere $5 million to reach number eight, while Iron Man 2 and Marmaduke landed in the number nine and ten spots respectively.
The US box office top ten in full:
1. (-) Toy Story 3 – $109,000,000
2. (1) The Karate Kid – $29,000,000
3. (2) The A-Team – $13,775,000
4. (4) Get Him To The Greek – $6,117,000
5. (3) Shrek Forever After – $5,520,000
6. (6) Prince Of Persia: The Sands Of Time – $5,273,000
7. (5) Killers – $5,100,000
8. (-) Jonah Hex – $5,085,000
9. (9) Iron Man 2 – $2,675,000
10. (7) Marmaduke – $2,650,000