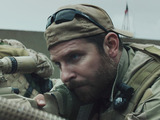 American Sniper has retained the US box office number one spot.
Bradley Cooper's war drama took $31,850,000 this weekend, taking it just short of the $250m mark and setting a new Super Bowl weekend record in the process.
Paddington is up one place to 2 with $8,505,000, while new entry Project Almanac is at 3 with $8,500,000.
Kevin Costner's Black Or White is new at 4 with $6,456,000, and Jennifer Lopez's The Boy Next Door rounds out the top five with $6,093,000.
Kevin Hart comedy The Wedding Ringer is at 6, Alan Turing biopic The Imitation Game is at 7 and Liam Neeson's action sequel Taken 3 is at 8.
Animation Strange Magic and new entry The Loft round out the top ten.
The US weekend box office Top 10 for January 30-February 1 is as follows:
1. (1) American Sniper – $31,850,000
2. (3) Paddington – $21,000,000
3. (-) Project Almanac – $8,505,000
4. (-) Black Or White – $6,456,000
5. (2) The Boy Next Door – $6,093,000
6. (4) The Wedding Ringer – $5,700,000
7. (6) The Imitation Game – $5,173,000
8. (5) Taken 3 – $3,650,000
9. (7) Strange Magic – $3,441,000
10. (-) The Loft – $2,879,000
This box-office news can be discussed here