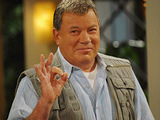 William Shatner has joked that his new TV series is making history.
The actor's show S**t My Dad Says, which is based on the cult Twitter account, was recently picked up by CBS.
"You can't say the title of the show on air, you can only think it," Shatner told Zap2It. "We're making television history."
He continued: "Not only will it be the funniest show on television at 8.30 on Thursday night, it will be the funniest show on television on Thursday night… It was born electronically. That's a first. And you'll have to watch it to find out how we did it."
However, Shatner admitted that his own Twitter feed is written by other people.
"I know nothing about Twitter," he explained. "I don't read Twitter. But what I have done is acquired the knowledge of how it works. And so knowing that to reach people… about things I'm doing or things I'm thinking. I'm very careful to tell the people who do the actual typing what I want to do, what I want to say, the questions I want to provoke."