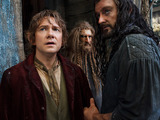 The Hobbit: The Desolation of Smaug has knocked Frozen off the top spot at the US box office.
The Peter Jackson-directed sequel to last year's The Hobbit: An Unexpected Journey, based on the book by JRR Tolkien, debuted at number one this weekend with $73.6m.
While Frozen continued strongly this week with $22.1m at number two, Tyler Perry's A Madea Christmas premiered in third place with $16m.
The top five was rounded out by Jennifer Lawrence's The Hunger Games: Catching Fire and Thor: The Dark World.
The US weekend box office top ten in full:
1. (-) The Hobbit: The Desolation of Smaug – $73,675,000
2. (1) Frozen – $22,184,000
3. (-) Tyler Perry's A Madea Christmas – $16,000,000
4. (2) The Hunger Games: Catching Fire – $13,150,000
5. (4) Thor: The Dark World – $2,700,000
6. (3) Out of the Furnace – $2,320,000
7. (5) Delivery Man – $1,872,000
8. (9) Philomena – $1,756,000
9. (7) The Book Thief – $1,675,000
10. (6) Homefront- $1,637,000