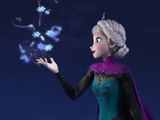 Frozen has knocked The Hunger Games: Catching Fire out of the top spot at the US box office.
The Kristen Bell-starring Disney animated movie – which is based on Hans Christian Andersen's The Snow Queen – came in at number-one over the weekend with $31.6m.
Jennifer Lawrence's The Hunger Game: Catching Fire continued strongly in its third week of release by finishing in second place with $27m.
Out of the Furnace – starring Christian Bale and Casey Affleck in a story of two brothers sucked into the crime world – debuted in third position by taking $5.3m.
The top five was rounded out by Marvel's Thor: The Dark World and the Vince Vaughn comedy Delivery Man.
Black Nativity and Last Vegas both fell out of the top ten over the weekend.
The US weekend box office top ten in full:
1. (2) Frozen – $31,641,000
2. (1) The Hunger Games: Catching Fire – $27,000,000
3. (-) Out of the Furnace – $5,300,000
4. (3) Thor: The Dark World – $4,740,000
5. (6) Delivery Man – $3,775,000
6. (5) Homefront – $3,384,000
7. (7) The Book Thief – $2,700,000
8. (4) The Best Man Holiday – $2,673,000
9. (9) Philomena – $2,282,000
10. (-) Dallas Buyers Club – $1,459,000