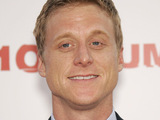 Dollhouse actor Alan Tudyk has joined the cast of Transformers 3.
According to The Wrap, Tudyk will join returning stars Shia LaBeouf and Megan Fox as well as new additions Patrick Dempsey, John Malkovich and Frances McDormand in the sequel in an unspecified role.
Michael Bay is returning to direct the picture, which is scheduled to open in the US on July 1, 2011.
The 39-year-old is also known for playing the character Wash in Joss Whedon's Firefly series and its film spinoff Serenity
.