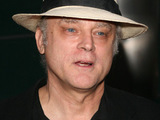 Revenge of Chucky is in the works, according to Brad Dourif.
The actor, who supplies the voice of the titular killer doll, said that a new entry in the horror series is in development alongside the proposed Child's Play remake.
Moviehole reports that Dourif is attached to both projects, but is yet to see a script for either. Revenge of Chucky is described as a "spinoff" involving the character's immediate family, while the remake will be a darker retelling of the original Child's Play.
Don Mancini and David Kirschner, who worked on several entries in the series, have been planning the remake for some time. MGM pledged financial backing to the project last year, but there have been no developments since.
Chucky made his debut in 1998's Child's Play. The film spawned four sequels, the most recent being 2004's Seed of Chucky which co-starred Jennifer Tilly, Billy Boyd and former S Club 7 singer Hannah Spearritt.
Revenge of Chucky and the Child's Play remake are yet to be assigned release dates.