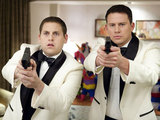 The comedy adaptation of the popular '80s cop show stars Jonah Hill and Channing Tatum as
two bumbling police officers who go undercover in a high school to bust a drug ring.
The film's debut at number one beat out last week's champion The Lorax, which falls to second place with $22.8 million.
The animated movie, which features voice work from Zac Efron, Betty White and Taylor Swift, has so far grossed over $158 million in the US.
Disney's sci-fi epic John Carter slipped one spot to number three, raking in just $13.5 million, while Will Ferrell's new Spanish language release Casa De Mi Padre debuted at ninth place with $2.2 million in earnings.
Reese Witherspoon's spy comedy This Means War is still holding on to the top ten, dropping one spot from last week to number ten and earning $2.1 million, while Journey 2: The Mysterious Island leaps up to number eight, bringing in a further $2.46 million.
The US box office top ten in full (studio estimates):
1. (-) 21 Jump Street – $35,000,000
2. (1) Dr. Seuss' The Lorax – $22,800,000
3. (2) John Carter – $13,515,000
4. (3) Project X – $4,005,000
5. (6) A Thousand Words – $3,750,000
6. (4) Act of Valor – $3,678,000
7. (7) Safe House – $2,800,000
8. (10) Journey 2: The Mysterious Island – $2,460,000
9. (-) Casa De Mi Padre – $2,200,000
10. (9) This Means War – $2,125,000