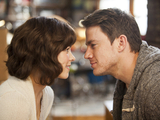 The Vow has topped the US box office with $41 million.
The romantic drama, which stars Channing Tatum and Rachel McAdams, holds off competition from fellow new releases Safe House, Journey 2: The Mysterious Island and Star Wars: Episode I – The Phantom Menace to secure the number one spot.
Last week's chart topper Chronicle falls four places to number five with $12.3 million. The found footage superhero film, which cost just $12 million to make, has so far grossed $40 million in the US and a further $23 million from foreign territories.
Daniel Radcliffe's The Woman in Black drops four spots to number six with $10,300,000.
Elsewhere, George Clooney's The Descendants continues it stay in the top 10 as it slips down one place to number nine.
The US box office top ten in full (studio estimates):
1. (-) The Vow – $41,700,000
2. (-) Safe House – $39,300,000
3. (-) Journey 2: The Mysterious Island – $27,550,000
4. (-) Star Wars: Episode I – The Phantom Menace – $23,000,000
5. (1) Chronicle – $12,300,000
6. (2) The Woman in Black – $10,300,000
7. (3) The Grey – $5,080,000
8. (4) Big Miracle – $3,900,000
9. (8) The Descendants – $3,500,000
10. (5) Underworld: Awakening – $2,500,000