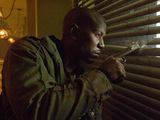 Syfy is set to turn the movie Legion into a cable television series.
Legion tells the story of Archangel Michael, who helps the humans fight the impending Apocalypse brought by God's army of angels.
The film's director Scott Stewart will direct and executive produce the series, while the story will be written by Sons of Anarchy's Vaun Wilmott, reports Deadline.
Released in 2010, the movie starred Paul Bettany as Archangel Michael, as well as Tyrese Gibson, Adrianne Palicki and Kate Walsh.
Bettany once said that he enjoyed his time during the shooting of Legion.
"It was fun to give free rein to that boyish fantasy of jumping around doing flips and somersaults and pretending to be Clint Eastwood shooting the bad guys," he said.