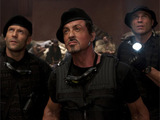 A stuntman has died and another is in critical condition following an accident on the set of The Expendables 2 yesterday.
The incident occurred at 7pm local time when the movie's 2nd Unit Stunt Team was filming an explosion scene at reservoir Ognyanovo, 15 miles from Bulgaria's capital of Sofia, Deadline reports.
Production company Nu Image/Millennium Films said: "It is with great regret that we confirm this unfortunate accident.
"Our hearts go out to the families and those on the production affected by this tragedy. The filmmakers are working closely with the authorities in responding to and investigating this accident."
Local police have launched an investigation into the matter. Details of those involved in the incident are currently being withheld in consideration of their families.
The sequel to The Expendables started shooting last week.
The film's main unit, which was led by star Sylvester Stallone and director Simon West, was reportedly filming in the mountain resort of Bankso, 2.5 hours away from the incident.