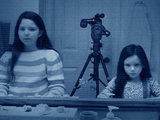 The third instalment in supernatural horror franchise Paranormal Activity has shot straight to the top of the US box office.
From Catfish directors Ariel Schulman and Henry Joost, Paranormal Activity 3 took $54 million in its opening weekend.
Falling to second place is last week's box office topper Real Steel with $11.3 million, followed closely by dance remake Footloose with $10.9 million.
Summit Entertainment's The Three Musketeers opens in fourth place with $8.8 million, followed by the George Clooney-directed drama The Ides of March.
This week's US box office top ten in full (studio estimates):
1. (-) Paranormal Activity 3 – $54 million
2. (1) Real Steel – $11.3 million
3. (2) Footloose – $10.9 million
4. (-) The Three Musketeers – $8.8 million
5. (4) The Ides of March – $4.9 million
6. (5) Dolphin Tale – $4.5 million
7. (6) Moneyball – $4.1 million
8. (-) Johnny English – $3.8 million
9. (3) The Thing – $3.1 million
10. (7) 50/50 – $2.8 million