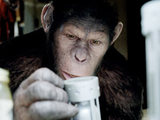 Rise of the Planet of the Apes has held off competition to stay at the top of the US box office.
The film, starring James Franco and Andy Serkis, took in $27.5 million to remain at the top spot for a second week running. The drama has now taken $104.9m in just ten days, after hitting theaters last weekend.
The movie adaptation of Kathryn Stockett's bestseller The Help, starring Emma Stone and Bryce Dallas Howard, opened in second place with $25.5m.
Final Destination 5 achieved $18.4m in its opening weekend, reaching third place. The Smurfs dropped to fourth place with takings of $13.5m.
R-rated comedy 30 Minutes or Less completed the top five, with earnings of $13m.
This week's US box office top ten in full (studio estimates):
1. (1) Rise of the Planet of the Apes – $27,500,000
2. (-) The Help – $25,500,000
3. (-) Final Destination 5 – $18,400,000
4. (2) The Smurfs – $13,500,000
5. (-) 30 Minutes or Less – $13,000,000
6. (3) Cowboys & Aliens – $7,610,000
7. (5) Captain America: The First Avenger – $7,120,000
8. (7) Crazy, Stupid, Love – $6,930,000
9. (6) Harry Potter and the Deathly Hallows: Part 2 – $6,880,000
10. (4) The Change-Up – $6,220,000