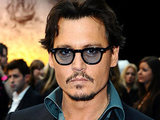 Disney has reportedly shut down production on Johnny Depp-led Western The Lone Ranger.
Producer Jerry Bruckheimer has allegedly been in disputes with Disney over the film's proposed budget, leading the studio to axe the project.
The Lone Ranger's estimated price tag of $200m (£122m) is said to be too much for Disney, who are instead focusing on their upcoming projects John Carter – a sci-fi adventure starring Taylor Kitsch – and Sam Raimi's Oz: The Great And Powerful, Deadline reports.
Director Gore Verbinski was also said to be concerned in light of Disney's plans to spawn a new franchise from the film.
"Gore doesn't want to budge for what he thinks a movie like this needs," a source told The Hollywood Reporter. "The fact that it's a Western is a definite concern."
The Lone Ranger was to be based on the popular 1949 television series starring Clayton Moore and Jay Silverheels.
The Social Network star Armie Hammer was set to take on the role of the Lone Ranger himself, while Depp would have portrayed his Native American sidekick Tonto.
Depp signed on for the film in 2008 under a 'pay or play' contract, meaning that he will still receive the entirety of his fee.
The Lone Ranger was due to begin filming this fall for an expected release in December 2012.