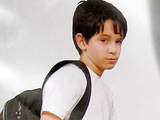 Comedy sequel Diary Of A Wimpy Kid 2: Rodrick Rules topped the US box office this weekend, ahead of the heavily-promoted Zack Snyder epic Sucker Punch.
The sequel to last year's surprise hit Diary Of A Wimpy Kid took an estimated $24.4 million in its opening weekend, well in front of the $19.3 million brought in by Sucker Punch.
Last week's box office winner Limitless falls to third place this weekend, taking a respectable $15.2 million, followed by legal thriller The Lincoln Lawyer with $11 million.
Gore Verbinski's animated comedy Rango rounds out the top five films with $9.8 million.
This week's US box office top ten in full:
1. (-) Diary Of A Wimpy Kid 2: Rodrick Rules – $24,400,000
2. (-) Sucker Punch – $19,300,000
3. (1) Limitless – $15,225,000
4. (4) The Lincoln Lawyer – $11,000,000
5. (2) Rango – $9,800,000
6. (3) Battle: Los Angeles – $7,600,000
7. (5) Paul – $7,500,000
8. (6) Red Riding Hood – $4,340,000
9. (7) The Adjustment Bureau – $4,240,000
10. (8) Mars Needs Moms – $2,600,000