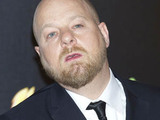 David Slade has confirmed reports claiming that he has signed to direct a new Daredevil movie.
The Twilight Saga: Eclipse helmer announced his attachment to the 20th Century Fox reboot on Twitter.
"So without breaking confidentiality, yes Daredevil, we have a great outline for a very strong character driven take on Mr Matt Murdock," Slade tweeted on March 19.
Slade also revealed that his Daredevil film would "bare no relation to the previous Daredevil movie in any way".
He added: "We are at early planning stages and have not yet discussed any cast."
It was rumoured that Robert Pattinson was in talks to star in the project as Marvel Comics superhero Daredevil, but a source close to the actor recently denied those claims.
Ben Affleck starred as the title character in the 2003 Daredevil movie directed by Mark Steven Johnson.