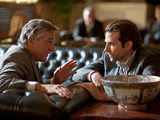 Neil Burger's action thriller Limitless has topped the US box office in its opening weekend by taking $19 million.
The film, starring Bradley Cooper and Abbie Cornish, held off competition from Gore Verbinski's animation Rango, which took $15.3 million, and Matthew McConaughey's comeback legal drama The Lincoln Lawyer, which entered in third place with an estimated $13.4 million.
Rounding out the top five films was Simon Pegg and Nick Frost's latest outing Paul, which took $13.2 million for its launch, despite topping the UK box office last month.
Next weekend sees the wide release of Zack Snyder's fantasy epic Sucker Punch, as well as the family-oriented Diary Of A Wimpy Kid: Rodrick Rules.
This week's US box office top ten in full:
1. (-) Limitless – $19,000,000
2. (2) Rango – $15,300,000
3. (1) Battle: Los Angeles – $14,600,000
4. (-) The Lincoln Lawyer – $13,400,000
5. (-) Paul – $13,200,000
6. (3) Red Riding Hood – $7,300,000
7. (4) The Adjustment Bureau – $5,900,000
8. (5) Mars Needs Moms – $5,300,000
9. (6) Beastly – $3,300,000
10. (7) Hall Pass – $2,600,000