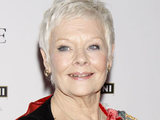 Judi Dench has confirmed that she will reprise her role as M in the 23rd James Bond movie.
Speaking at the South Bank Sky Arts Awards, Dench revealed that she will portray the secret agent's boss for the seventh time but declined to give away any details about the latest 007 outing.
"My lips are sealed. I can't tell you anything at all!" she said.
Dench, who first played the character in Pierce Brosnan's GoldenEye, added that the latest Bond will mark the first time she has worked with her former theatre director Sam Mendes on a film.
"Of course, I'm looking forward hugely to working with Daniel [Craig] again and with Sam [Mendes] who I've only ever worked with in the theatre," she said. "So that'll be all good fun to do! I'm so glad it's coming back, it's wonderful."
The 23rd James Bond film will start production later this year for a worldwide release on November 9, 2012.