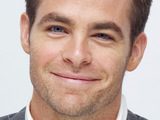 Chris Pine and Hugh Jackman have signed to voice lead roles in the upcoming 3D animated film Rise of the Guardians.
Peter Ramsey is directing the movie, based on a forthcoming Guardians of Childhood book series by William Joyce, who will co-helm the project.
Pine will voice Jack Frost and Jackman will play Bunnymaid, also known as the Easter Bunny, says Variety.
The film will further feature Alec Baldwin as North, or Santa Claus, and Isla Fisher as the Tooth, or the Tooth Fairy.
The movie follows these guardians battling Jude Law's villain Pitch, a boogeyman who tries to take over the world.
Rise of the Guardians is scheduled to open November 21, 2012.