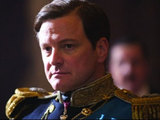 The King's Speech has picked up recognition in 12 categories to lead the nominations at the 2011 Academy Awards.
The royal drama, which centres on King George VI's attempts to overcome a crippling stammer as World War II approaches, has scooped nominations for 'Best Picture', 'Best Director' and 'Best Adapted Screenplay'.
The British film also has a strong presence in the acting categories as stars Colin Firth ('Best Actor'), Geoffrey Rush ('Supporting Actor') and Helena Bonham Carter ('Supporting Actress') all score Oscar nods.
Joel and Ethan Coen's remake of True Grit is close behind with 10 nominations in total, while The Social Network and Inception have secured eight nods apiece – including appearances in the 'Best Picture' line-up.
The remaining 'Best Picture' contenders are Black Swan, The Fighter, The Kids Are All Right, 127 Hours, Toy Story 3 and Winter's Bone.
Directors Darren Aronofsky (Black Swan), the Coen brothers, David Fincher (The Social Network), Tom Hooper (The King's Speech) and David O. Russell (The Fighter) have been nominated for the 'Best Director' prize.
In the 'Best Actor' nominations, Firth and last year's winner Jeff Bridges are up against Javier Bardem (Biutiful), Jesse Eisenberg (The Social Network) and James Franco (127 Hours).
Meanwhile, 'Best Actress' will see Black Swan's Natalie Portman up against Annette Bening (The Kids Are All Right), Nicole Kidman (Rabbit Hole), Jennifer Lawrence (Winter's Bone) and Michelle Williams (Blue Valentine).
The 2011 Academy Awards will be held on Sunday, February 27, 2011 at Hollywood's Kodak Theatre.