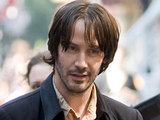 A representative for Keanu Reeves has denied a report claiming that the actor plans to star in more Matrix movies.
Ain't It Cool News recently posted about Reeves reteaming with the Wachowski brothers to make two further Matrix sequels.
According to the report, the actor spoke of the upcoming films at a Q&A session in London.
However, Reeves's spokesperson has said that the updates are not happening.
"None of it is true," the rep told Entertainment Weekly.