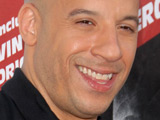 Vin Diesel has offered new details about the next Riddick movie.
The third Riddick instalment, reportedly titled The Chronicles Of Riddick: Dead Man Stalking, is currently in the works.
Diesel said that the film could offer him a new challenge.
"[M]y partner on [The Chronicles Of Riddick] since the beginning, [David Twohy]… has a new challenge in store. He wants me to have three different body looks for this next chapter," he wrote on his Facebook fanpage.
"There is the DiNorscio type, the Dom type, and the lean Furyan type… but all in the same movie, haha… When it comes to art, we all like a challenge."