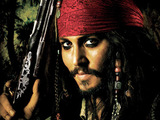 Johnny Depp has admitted that Disney executives were initially unhappy with his portrayal of Pirates of the Caribbean antihero Captain Jack Sparrow.
During an interview for Vanity Fair Depp apparently joked that one Disney executive even had to ask whether the character was intended to be gay.
"All my characters are gay," the actor reportedly told her. "[That] really made her nervous."
Depp went on to receive an Oscar nomination for his portrayal of the series' flagship character in Pirates of the Caribbean: The Curse of the Black Pearl.
Depp will next appear alongside Angelina Jolie in The Tourist, which will be released in cinemas December 10.