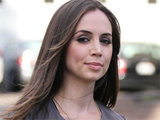 Eliza Dushku has been announced as the star of a new TNT pilot.
Dushku, who appeared in Buffy the Vampire Slayer and Dollhouse, has joined TNT's new series titled Bird Dog, reports Entertainment Weekly.
Bird Dog tells the story of a cop duo made up of a father and daughter. Dushku will play the daughter, while the father role is yet to be cast.
According to Deadline, Dushku's character is estranged from her father, a New York City cop, until he turns up as her new partner. Together, they solve crimes in a sleepy Pacific Northwestern town while building their own relationship.
Dushku most recently featured in The Big Bang Theory as an FBI agent.