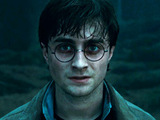 Harry Potter And The Deathly Hallows: Part 1 has managed to remain at the top of the US box office for Thanksgiving weekend.
The latest offering in the long-running franchise benefited from the extended five-day weekend and took in $76.3 million, bringing its domestic total to $220.4 million.
Disney's latest 3D film Tangled entered the charts at two with a respectable $69 million, followed by DreamWorks Animation's Megamind with $17.3 million.
Musical film Burlesque, starring Christina Aguilera and Cher, enters in fourth place with $17.2 million while Denzel Washington thriller Unstoppable rounds out the top five by taking $16 million.
Next weekend, the likes of I Love You, Phillip Morris and Darren Aronofsky's Black Swan will receive a limited release along with a wider release for western film The Warrior's Way.
The US box office top ten in full:
1. (1) Harry Potter And The Deathly Hallows: Part 1 – $76,300,000
2. (-) Tangled – $69,000,000
3. (2) Megamind – $17,300,000
4. (-) Burlesque – $17,200,000
5. (3) Unstoppable – $16,000,000
6. (-) Love & Other Drugs – $14,000,000
7. (-) Faster – $12,200,000
8. (4) Due Date – $7,300,000
9. (5) The Next Three Days – $7,800,000
10. (6) Morning Glory – $5,900,000