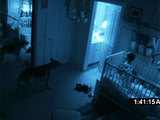 Psychological horror sequel Paranormal Activity 2 has taken the top spot at the US box office.
The film, directed by Tod Williams, has usurped last week's number one Jackass 3D by taking over $40 million.
Collider reports that this is the highest ever opening for a supernatural horror film, edging out 2004's remake The Grudge, which claimed $39.1 million in its opening weekend.
Jackass 3D falls to second place this week with $21.6 million, followed by comic book adaptation RED with $15 million.
The Clint Eastwood-directed drama Hereafter enters at number four with only $12 million, with The Social Network rounding out the top five at $7 million.
Former box office-topper Wall Street: Money Never Sleeps falls out of the top ten films this week.
The US box office top ten in full:
1. (-) Paranormal Activity 2 – $41,500,000
2. (1) Jackass 3D – $21,600,000
3. (2) RED – $15,000,000
4. (-) Hereafter – $12,000,000
5. (3) The Social Network – $7,200,000
6. (4) Secretariat – $7,000,000
7. (5) Life As We Know It – $6,300,000
8. (6) Legend Of The Guardians: The Owls Of Ga'Hoole – $3,100,000
9. (7) The Town – $2,700,000
10. (9) Easy A – $1,700,000