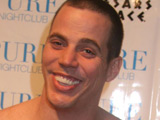 Paramount Pictures reportedly wants at least four sequels to the recent Jackass 3D movie.
According to the Daily Star Sunday, studio bosses were "shell-shocked" when the film topped the US box office last week, grossing $50m (£31m) in its opening weekend.
One of the film's stars, Steve-O, said: "I thought our glory days were over and, yeah, you do worry about fading into obscurity a little bit. I can't believe how things have turned out both for me and for Jackass."
It is claimed that the stars have each been offered $2m per subsequent film that they make in the Jackass series.
An executive at Paramount added:: "Their fans have sent a loud and clear message that they're missing them and want more."