Khloe Kardashian was reportedly "nervous" while filming her guest appearance on Law & Order: Los Angeles.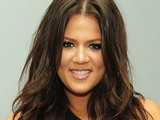 The reality star played herself in an upcoming episode of the NBC series entitled 'Benedict Canyon', which focuses on the shooting of a celebrity stylist.
"Khloe plays herself in an interrogation scene with cops. They are questioning her because a stylist she worked with was involved in a shooting," a source told HollywoodLife.com. "She doesn't have a ton of lines, but she was still really nervous in the beginning.
"Luckily, the scene is brief and she quickly adapted to the nature of the set. She was only there for a few hours and did her scene and left without incident."
Kardashian's episode of Law & Order: Los Angeles will air on April 25.
Khloe's sister Kourtney recently filmed a cameo on the cancelled ABC soap opera One Life To Live.