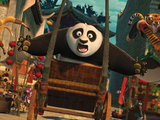 Kung Fu Panda 2 has debuted in first place at the UK box office.
The DreamWorks 3D animation, featuring the voices of Jack Black and Angelina Jolie, pulls in more than £6 million to hold off competition from The Hangover Part II and last week's chart topper X-Men: First Class.
Kung Fu Panda's strong opening means that the last four weeks have all seen movies open to more than £5 million following Pirates of the Caribbean: On Stranger Tides, The Hangover Part II and X-Men: First Class.
Dance movie Honey 2 enters the chart at number five, while Formula 1 documentary Senna falls to number seven despite an increase in box office takings.
Horror remake Mother's Day is the only other new release to chart in the top ten as it bows at number nine with a slim £94,000.
The UK box office top ten in full:
1. (-) Kung Fu Panda 2 – £6,188,897
2. (2) The Hangover Part II – £2,759,847
3. (1) X-Men: First Class – £2,401,492
4. (3) Pirates of the Caribbean: On Stranger Tides – £1,580,778
5. (-) Honey 2 – £520,654
6. (4) Diary of a Wimpy Kids: Rodrick Rules – £455,240
7. (6) Senna – £408,923
8. (7) Ready – £114,878
9. (-) Mother's Day – £94,385
10. (8) Rio – £65,682