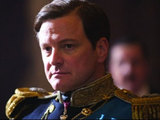 The King's Speech has retained its place at the top of the UK box office.
Colin Firth's royal drama – which scooped 14 BAFTA nominations this week – has boosted its opening weekend earnings by 25%, taking in £4.4 million to best Seth Rogen's superhero movie The Green Hornet.
Xavier Marchand, managing director of Momentum Pictures, said of The King's Speech's success: "We are blown away by the second weekend's box office for The King's Speech. Feedback from the cinemas suggests repeat viewing and a broadening of the audiences towards students and teens.
"We're still getting really positive reactions from cinemas and fans across the UK. The King's Speech is a British crowd pleaser."
Danny Boyle's survival drama 127 Hours falls to number three, Gulliver's Travels holds its spot at number four and comedy Little Fockers completes the top five.
Elsewhere, Hilary Swank's Conviction and hotly-tipped indie drama Blue Valentine debut just outside the top ten, at numbers 12 and 14 respectively.
The UK box office top ten in full:
1. (1) The King's Speech – £4,401,926
2. (-) The Green Hornet – £1,878,905
3. (2) 127 Hours – £1,342,432
4. (4) Gulliver's Travels – £1,252,107
5. (3) Little Fockers – £1,224,667
6. (6) Love & Other Drugs – £608,577
7. (5) The Next Three Days – £539,562
8. (7) Harry Potter And The Deathly Hallows: Part 1 – £533,141
9. (9) The Chronicles Of Narnia: The Voyage Of The Dawn Treader – £410,757
10. (8) Tron: Legacy – £330,701