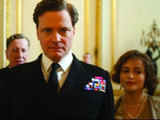 The King's Speech has opened in first place at the UK box office on its debut weekend on release.
The royal drama – starring Colin Firth, Helena Bonham Carter and Geoffrey Rush – pulls in £3.5 million to edge out the week's other big new movie, Danny Boyle and James Franco's 127 Hours.
Little Fockers and Gulliver's Travels fill third and fourth place respectively, while Russell Crowe's The Next Three Days rounds out the top five.
Love & Other Drugs falls to number six ahead of Harry Potter And The Deathly Hallows: Part 1. The first instalment in the two-part Potter finale has now made more than £50 million at the UK box office.
Tron: Legacy and The Voyage Of The Dawn Treader occupy the eighth and ninth slots in the chart. Nicolas Cage's latest offering Season Of The Witch makes a disappointing debut at number ten with just over £500,000 in ticket sales.
The UK box office top ten in full:
1. (-) The King's Speech – £3,523,102
2. (-) 127 Hours – £2,168,570
3. (2) Little Fockers – £1,798,677
4. (1) Gulliver's Travels – £1,554,266
5. (-) The Next Three Days – £1,046,333
6. (3) Love & Other Drugs – £807,912
7. (7) Harry Potter And The Deathly Hallows: Part 1 – £712,728
8. (6) Tron: Legacy – £639,903
9. (5) The Chronicles Of Narnia: The Voyage Of The Dawn Treader – £621,393
10. (-) Season Of The Witch – £559,769