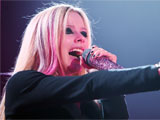 Avril Lavigne has revealed that her new single will be accompanied by a 3D music video.
The singer, whose new track is called 'What The Hell', has recorded a promo using 3D technology, which she described as "awesome".
In a behind-the-scenes video posted on YouTube, Lavigne said: "3D motherf**ker! It's like you can touch it!"
The teaser clip shows the 'Girlfriend' star performing the track at a gig with a live band.
'What The Hell' is released in the UK on January 17.