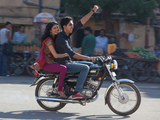 The Best Exotic Marigold Hotel has topped the UK box office, ending The Woman in Black's three-week reign in the number one spot.
Judi Dench and Maggie Smith are among the all-star Brit cast for the comedy, which leaps above Daniel Radcliffe's supernatural thriller and into first place on its second weekend on release.
Marigold Hotel earns £2.3 million to chart ahead of Woman in Black's £1.88 million, while new release This Means War debuts at number three with £1.82 million.
Safe House falls a place to number four, with The Muppets completing the top five.
A pair of new comedy releases occupy numbers six and seven. Project X, the documentary-style party movie, debuts with £561,655 ahead of the £490,592 earned by Jennifer Aniston and Paul Rudd's Wanderlust.
The Artist saw a lift in business, moving up a spot to eight, after bagging five Academy Awards. The black and white silent comedy's ticket sales rose by 33% to £469,369 on the back of its 'Best Picture' Oscar victory.
Journey 2: The Mysterious Island slips down to number nine with £387,435 in box office takings, and romantic drama The Vow completes the top ten with £264,643.