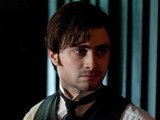 The Woman in Black has topped the UK box office for the third consecutive weekend.
Daniel Radcliffe's Hammer horror film holds off strong competition from new releases The Best Exotic Marigold Hotel and Safe House to secure the number one spot with £2.4 million in ticket sales.
Marigold Hotel, which features an all-star British cast that includes Judi Dench, Maggie Smith and Tom Wilkinson, and action-thriller Safe House both notched up impressive debuts of more than £2 million but still trail behind the supernatural horror among UK cinemagoers.
The Muppets slides two spots to number four, while Nicolas Cage's Ghost Rider: Spirit of Vengeance completes the top five.
With the half-term school holidays over, the top ten sees a dip in takings over the past week, but both The Vow and this weekend's big Oscar-winner The Artist hold their spots at numbers six and nine respectively.
The UK box office top ten in full:
1. (1) The Woman in Black – £2,432,580
2. (-) The Best Exotic Marigold Hotel – £2,222,051
3. (-) Safe House – £2,142,872
4. (2) The Muppets – £1,490,069
5. (3) Ghost Rider: Spirit of Vengeance – £487,874
6. (6) The Vow – £480,085
7. (5) Journey 2: The Mysterious Island – £411,983
8. (4) Star Wars: Episode I – he Phantom Menace – £404,962
9. (9) The Artist – £352,139
10. (-) One for the Money – £317,762