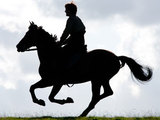 Steven Spielberg's War Horse has topped the UK box office on its debut weekend on release.
The World War I drama, which stars Jeremy Irvine and Benedict Cumberbatch, gallops past Meryl Streep's Margaret Thatcher biopic The Iron Lady to secure first place with takings of £3.9 million.
War Horse ends Mission: Impossible – Ghost Protocol's three-week stint at number one, with Tom Cruise's spy sequel falling to number four behind Sherlock Holmes: A Game of Shadows.
The Girl with the Dragon Tattoo completes the top five as it drops down a place with £1 million in ticket sales.
New releases The Darkest Hour and Shame chart at numbers six and ten respectively, while Golden Globe winner The Artist posts a steady box office increase from last week to climb a place to number seven.
The UK box office top ten in full:
1. (-) War Horse – £3,944,746
2. (3) The Iron Lady – £1,489,528
3. (2) Sherlock Holmes: A Game of Shadows – £1,403,319
4. (1) Mission: Impossible – Ghost Protocol – £1,373,539
5. (4) The Girl with the Dragon Tattoo – £1,046,225
6. (-) The Darkest Hour – £740,773
7. (8) The Artist – £688,546
8. (5) Alvin and the Chipmunks: Chipwrecked – £681,642
9. (6) Puss in Boots – £679,348
10. (-) Shame – £535,288