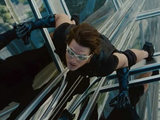 Mission: Impossible – Ghost Protocol has held off competition from Meryl Streep's The Iron Lady to stay on top of the UK box office.
Tom Cruise's spy sequel pulls in £2.2 million to land in first place ahead of Sherlock Holmes: A Game of Shadows, which climbs a spot to number two, and the much-discussed Margaret Thatcher biopic. The Iron Lady earns £2.1 million from 439 locations across the UK.
The Girl with the Dragon Tattoo and Alvin and the Chipmunks: Chipwrecked complete the top five.
Puss in Boots drops out of the top five to number six, while Seann William Scott comedy Goon debuts at number six.
The Artist expanded its cinema run nationwide over the weekend and climbed into the top ten. Michel Hazanavicius's ode to silent cinema charts at number seven with box office takings of £629,495 from 106 locations.
The UK box office top ten in full:
1. (1) Mission: Impossible – Ghost Protocol – £2,223,200
2. (3) Sherlock Holmes: A Game of Shadows – £2,163,718
3. (-) The Iron Lady – £2,151,368
4. (2) The Girl with the Dragon Tattoo – £1,649,100
5. (4) Alvin and the Chipmunks: Chipwrecked – £922,103
6. (5) Puss in Boots – £917,161
7. (-) Goon – £728,286
8. (13) The Artist – £629,495
9. (6) New Year's Eve – £339,685
10. (8) Hugo – £161,794