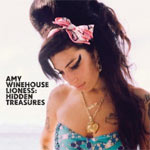 Amy Winehouse's posthumous release Lioness: Hidden Treasures has landed straight in at number one on the UK album chart.
The LP of previously-unheard recordings shifted over 194,000 copies in just seven days, giving the late singer the biggest weekly sales total of her career.
The figure also makes Hidden Treasures the fourth fastest-selling album of 2011, a title currently held by Lady GaGa's Born This Way with 215,000 copies.
Lioness's success is emulated by the rest of this Sunday's top four, all of which have managed to break the 100,000 sales barrier in the past week.
Michael Bublé's Christmas remains at two, but posts a week-on-week increase of over 30% to almost 190,000 copies, X Factor runner-up Rebecca Ferguson shifts over 128,000 editions of her debut album Heaven to reach three and Olly Murs still notches up over 113,000 sales of In Case You Didn't Know, despite slipping from pole position.
As Christmas approaches, former number one albums occupy the rest of the Top 10, with the biggest movements being made by Rihanna's Talk That Talk, down two to five, and One Direction's Up All Night, which crashes five to nine.
The Top 10 in full:
1. (-) Amy Winehouse: 'Lioness: Hidden Treasures'
2. (2) Michael Bublé: 'Christmas'
3. (-) Rebecca Ferguson: 'Heaven'
4. (1) Olly Murs: 'In Case You Didn't Know'
5. (3) Rihanna: 'Talk That Talk'
6. (5) Adele: '21'
7. (7) Ed Sheeran: '+'
8. (8) Coldplay: 'Mylo Xyloto'
9. (4) One Direction: 'Up All Night'
10. (10) Bruno Mars: 'Doo Wops & Hooligans'
Westlife skate out of the bestsellers after two weeks with their Greatest Hits album, down two to 11, as Il Divo also settle for a place in the double digits at 13 with Wicked Game, which is down from last week's six.
Alfie Boe, meanwhile, boosts five up the chart to 15 with Alfie, as Susan Boyle's Someone To Watch Over Me and Take That's Progress Live dip three and six places respectively to 16 and 18.
Source: Official Charts Company