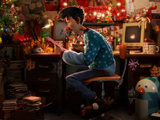 Arthur Christmas has taken the top spot in the UK box office.
The film had been stuck in second position behind The Twilight Saga: Breaking Dawn – Part 1 for two weeks but has risen to number one.
Aardman's latest animation took just under £1.9m for the weekend, taking its total since release to £11.48m
Happy Feet Two is the highest new entry, coming in at two ahead of the latest Twilight movie, which drops from top spot.
Martin Scorsese's Hugo and the latest remake of The Thing are other new entries rounding out the top five.
The UK box office top ten in full:
1. (2) Arthur Christmas – £1,896,595
2. (-) Happy Feet Two -£1,686,197
3. (1) The Twilight Saga: Breaking Dawn – Part 1 – £1,671,495
4. (-) Hugo – £1,225,987
5. (-) The Thing – £485,534
6. (3) My Week with Marilyn – £749,819
7. (4) The Adventures of Tintin: The Secret of the Unicorn – £301,943
8. (6) 50/50 – £231,737
9. (5) Immortals – £226,603
10. (7) Dream House – £131,303