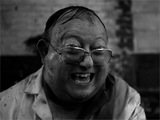 The Human Centipede II (Full Sequence) has taken just £942 at the box office after opening in the UK last weekend.
Tom Six's controversial horror sequel, which had two minutes and 37 seconds removed in order to obtain an 18 certificate for release, amassed the total when it opened on 10 UK cinema screens last Friday (November 4), says The Guardian.
In contrast, the film's predecessor The Human Centipede (First Sequence) debuted to £6,145 from 14 screens in August 2010.
Director Six slammed censors the British Board of Film Classification's (BBFC) when they rejected his movie in June.
He said: "Apparently I made a horrific horror film, but shouldn't a good horror film be horrific? My dear people it is a f**king MOVIE. It is all fictional. Not real. It is all make-belief. It is art."
Dutch filmmaker Six recently stated that Steven Spielberg's Schindler's List influenced his decision to shoot The Human Centipede II in black and white.