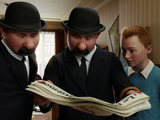 The Adventures of Tintin has spent its second weekend at the top of the UK box office.
Steven Spielberg's 3D animated movie, starring Jamie Bell, Andy Serkis, Simon Pegg, Nick Frost and Daniel Craig, holds off competition from new releases In Time and Tower Heist to secure first place.
In Time, Justin Timberlake and Amanda Seyfried's sci-fi thriller, opened early on Tuesday (November 1) but was not able to pull in enough ticket sales to dislodge Tintin.
Johnny English Reborn sits at number three, while Paranormal Activity 3 drops from second spot to number five.
Elsewhere, Gerard Butler's Machine Gun Preacher is a new entry at ten.
The UK box office top ten in full:
1. (1) The Adventures of Tintin: The Secret of the Uniform – £2,199,171
2. (-) In Time – £1,882,365
3. (-) Tower Heist – £1,451,029
4. (3) Johnny English Reborn – £832,068
5. (2) Paranormal Activity 3 – £800,580
6. (7) The Help – £537,633
7. (4) Contagion – £493,293
8. (8) The Ides of March – £489,240
9. (5) The Lion King 3D – £461,738
10. (-) Machine Gun Preacher – £331,578