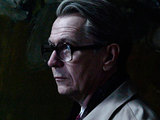 Tinker, Tailor, Soldier, Spy has topped the UK box office for the third consecutive weekend.
Gary Oldman's spy thriller pulls in £1 million to hold off competition from Twilight star Taylor Lautner's new movie Abduction to secure top spot.
Special 25th anniversary concert screenings of The Phantom of the Opera impress with more than £500,000 in ticket sales to land at number three.
Three other new releases make the top ten this week, with Helen Mirren's The Debt bowing at number five, Shark Night 3D at six and What's Your Number? charting at nine.
Kirsten Dunst and Lars von Trier's critically acclaimed Melancholia fails to dent the top ten.
The UK box office top ten in full:
1. (1) Tinker, Tailor, Soldier, Spy – £1,064,901
2. (-) Abduction – £900,782
3. (-) The Phantom of the Opera – £550,955
4. (2) Crazy, Stupid, Love – £520,952
5. (-) The Debt – £417,977
6. (-) Shark Night 3D – £416,779
7. (4) The Inbetweeners – £371,785
8. (5) Drive – £365,401
9. (-) What's Your Number? – £320,331
10. (3) Warrior – £268,410