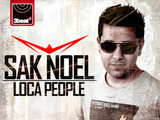 Sak Noel has landed straight at the top of the UK singles chart with his track 'Loca People'.
The Spanish DJ's dancefloor favourite reaches pole position ahead of 'Moves Like Jagger' by Maroon 5 and Christina Aguilera, while previous number one 'No Regrets' by N-Dubz star Dappy dips to four.
Third place this week is collected by the Goo Goo Dolls and their 1998 single 'Iris', which blasts from its previous finish of 120 following performances by X Factor contestants Frankie Cocozza and Joe Cox on last week's edition of the show. The track previously peaked at 26 in 1999.
The X Factor continues further down the chart, as last year's finalists One Direction drop down two more spots with their former-chart topper 'What Makes You Beautiful' at six.
Jason Derulo's It Girl and All About Tonight by Pixie Lott fall three apiece to seven and nine respectively, while Bad Meets Evil – the duo of Royce da 5'9″ and Eminem – land at ten after climbing the same number.
The Top 10 in full:
1. (-) Sak Noel: 'Loca People'
2. (2) Maroon 5 ft. Christina Aguilera: 'Moves Like Jagger'
3. (120) Goo Goo Dolls: 'Iris'
4. (1) Dappy: 'No Regrets'
5. (3) One Direction: 'What Makes You Beautiful'
6. (5) James Morrison: 'I Won't Let You Go'
7. (4) Jason Derulo: 'It Girl'
8. (8) Olly Murs ft. Rizzle Kicks: 'Heart Skips A Beat'
9. (6) Pixie Lott: 'All About Tonight'
10. (13) Bad Meets Evil ft. Bruno Mars: 'Lighters'
Continuing down the double digits, Ed Sheeran drops four to 11 with 'The A Team' as Bruno Mars and Rihanna rise two together with 'Marry You' and 'Cheers (Drink To That)', this week's 14 and 15.
Meanwhile, 'Jealousy' by Will Young slides down six to 16, Delilah advances four to 17 with 'Go' and Example's 'Stay Awake' slips from 14 to 19.
Electro-hop duo LMFAO, who scored a number one in April with 'Party Rock Anthem', finish the top 20 for the week with their new release 'Sexy And I Know It' .
Source; Official Charts Company