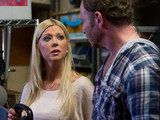 Syfy has confirmed the US premiere date of Sharknado 2: The Second One.
The B-movie sequel will air on Thursday, July 31 at 9pm PT, according to The Hollywood Reporter.
The original Sharknado premiered in July 2013, telling the story of a waterspout that lifts sharks out of the ocean, landing them on the streets of Los Angeles.
Perez Hilton has been confirmed to be making a cameo in the movie along with Biz Markie and Salt-N-Pepa's Pepa.
Robert Klein will play the former New York City mayor, while professional wrestler Kurt Angle will star as the FDNY fire chief.
Sharknado 2 will centre around a new freak weather system that sends sharks onto the streets of New York City.
Tara Reid and Ian Ziering will reprise their roles as Fin and April, alongside new cast members Vivica A Fox and Mark McGrath.
Kelly Osbourne, Judd Hirsch, Andy Dick and Judah Friedlander were previously announced to be making cameos.
Sharknado proved a surprise hit for Syfy in summer 2013, after trending on social media worldwide. It was seen by 1.4 million viewers during its premiere, and a further 2.1 million watched its repeat broadcast.