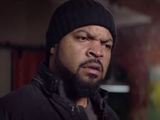 Kevin Hart's Ride Along has debuted at the top of the US box office.
The action comedy also starring rapper-turned-actor Ice Cube took $41.2m over the weekend to win the top spot on the chart.
It bumped last weekend's box office winner Lone Survivor to second place. The Mark Wahlberg war film earned $22.3m.
Meanwhile, animated feature The Nut Job debuted at number three with $20.5m, while Chris Pine's action reboot Jack Ryan: Shadow Recruit premiered at four with $17.2m.
Disney hit Frozen rounded out the top five, slipping from second place. So far, the movie's total gross is $332.6m.
Horror feature Devil's Due also debuted in the top ten, placing at number seven and earning $8.5m in ticket sales.
Elsewhere, The Legend of Hercules suffered a blow, falling out of the top ten from third place to 13th.
The US weekend box office top ten in full:
1. (-) Ride Along – $41,237,000
2. (1) Lone Survivor – $23,239,000
3. (-) The Nut Job – $20,550,000
4. (-) Jack Ryan: Shadow Recruit- $17,200,000
5. (2) Frozen – $11,971,000
6. (5) American Hustle – $10,600,000
7. (-) Devil's Due – $8,500,000
8. (7) August: Osage County – $7,592,000
9. (4) The Wolf of Wall Street – $7,500,000
10. (8) Saving Mr Banks – $4,147,000