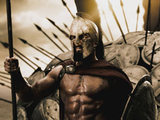 300's upcoming sequel is to be subtitled Rise of an Empire, Warner Bros has confirmed.
Noam Murro's follow-up was previously in development as 300: The Battle of Artemisia, but has now undergone a name change.
Sullivan Stapleton, Eva Green and Lena Headey will lead the cast of 300: Rise of an Empire, which follows Zack Snyder's 2006 original.
Hans Matheson, Rodrigo Santoro, Igal Naor, Callan Mulvey, Jack O'Connell and Andrew Tiernan make up the supporting cast.
300: Rise of an Empire will reportedly centre on Greek general Themistocles, who lead Athens against Persian forces in a battle that took place around the events of the first film.
300: Rise of an Empire is scheduled for release on August 2, 2013.