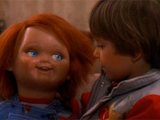 A sixth movie in the Child's Play horror franchise is scheduled to begin production in the fall, it has been reported.
According to Moviehole, a direct-to-DVD release called Curse of Chucky wil begin filming this September.
The first Child's Play movie came out in 1988 and starred Chris Sarandon and Catherine Hicks.
Don Mancini has once again written the screenplay for the upcoming sequel, and is also set to direct.
Brad Dourif will also be making a return to voice the terrifying doll, although no other casting has been announced.
The filmmakers say that Curse of Chucky will mark a return to the darker roots of the series, toning down the camp seen in Seed of Chucky and Bride of Chucky.
A release of Curse of Chucky is expected next year.