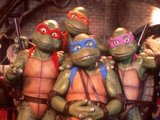 Michael Bay's Teenage Mutant Ninja Turtles reboot has reportedly been shut down for now, with the release date put back to 2014.
The film was previously due for a Christmas 2013 release, with filming to commence in Vancouver from late summer or early autumn of 2012.
However, The Hollywood Reporter claims that these plans have now been scrapped, with May 2014 as the new target.
Sources have apparently revealed that the script is the main issue behind the change.
Preproduction staff are said to have been temporarily laid off, with those prepping the film told that the delay is "indefinite". One source has reportedly disclosed that filming has been pushed back by ten weeks.
Bay is producing the movie, with Jonathan Liebesman (Wrath of the Titans) directing from a screenplay by Mission: Impossible – Ghost Protocol writers Josh Appelbaum and André Nemec.
The film has caused controversy with the decision to cast the heroes as aliens rather than the mutated reptiles of the original story.
Bay urged upset fans to "take a breath and chill" over the criticisms.