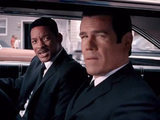 Men in Black 3 has debuted at number one at the US box office this weekend.
The latest addition to the Men in Black franchise managed to rake in $18 million its opening night, with a total weekend gross of $55 million.
Starring Will Smith and Josh Brolin, the comedy was able to break the three-week first place streak of The Avengers, which came in second with $36.9 million. Its current total earnings to date are $513 million.
Making far less are Battlefield in third place with $10.8 million and Sacha Baron Cohen's The Dictator in fourth place, earning $9.6 million.
Controversial horror movie Chernobyl Diaries made its debut this weekend at number five, grossing $8 million.
Tim Burton's Dark Shadows dropped two spots from last week with $7.5 million, coming in at number six.
Rounding out the top ten are The Best Exotic Marigold Hotel at number eight with $6.3 million, The Hunger Games at number nine with $2.7 million and Steve Harvey's surprise hit Think Like a Man at number ten with $1.4 million.

The US box office top ten in full (studio estimates):
1. (-) Men in Black 3 – $55,000,000
2. (1) The Avengers – $36,987,000
3. (2) Battleship – $10,800,000
4. (3) The Dictator – $9,600,000
5. (-) Chernobyl Diaries – $8,000,000
6. (4) Dark Shadows – $7,515,000
7. (5) What to Expect When You're Expecting – $7,150,000
8. (6) The Best Exotic Marigold Hotel – $6,350,000
9. (7) The Hunger Games The Hunger Games – $2,750,000
10. (8) Think Like a Man – $1,400,000