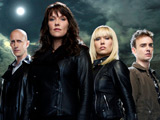 Sanctuary has been cancelled by Syfy, it has been confirmed.
The sci-fi drama – following an organisation that tracks powerful figures known as 'Abnormals' – ran for four seasons on the cable network.
Amanda Tapping (Dr Helen Magnus) confirmed the show's axing on Twitter, writing: "To all the fans of Sanctuary we love and adore you. Thank you for the love and support. Now to the long dark tea time of my soul."
Series stars Robin Dunne (Will) and Robert Lawrenson (Declan) also took to the social networking site, with Dunne thanking viewers for their "love and support" and Lawrenson expressing a "huge thank you to the phenomenal Sanctuary fans, cast, crew & producers for a wonderful run".
Sanctuary began life as a web series, before being picked up as a television series by Syfy.
The show's final episode aired on December 30 2011, pulling in 1.29m viewers.
This news item can be discussed here: NTSC User's Message Board